Modified Wool Show 2014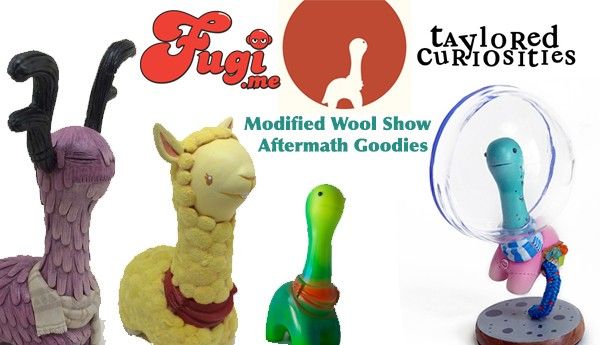 Myself and Jazzy Dan Perry of Fugi.me co-curated a custom toy show at RayGun Comics, London on saturday the 26th July 2014.? Each participating artist customised a?'Wool' figure made by Chima.
The show was a huge success and a really fun event for the toy scene in England. With over 30 artists from around the globe taking part, including:??A Little Stranger, Blue Frog, Fakir, J*RYU, Jackie Maddocks, Lisa Rae Hansen, Lunabee, Map Map, Mark
Nagata, Matt Jones, MCA, Mecha Virus, Mister Lister, Okkle, Onorio, Pickled Circus, PJ Constable, Pocket
Wookie, Robotic Industries, Run DMB, Scott Tolleson, Sergey Safanov, Stitches & Glue, TADO, Taylored
Curiosoities, Toy Terror, Uamou, Ume Toys, Uncle Absinth, and more.
We had some custom merchandise made to (you may have seen this photo on Awesome Merch's website):
It was an amazing event full of positivity and laughs.? I partially tore my ACL just before this so I had my knee strapped up, but I still managed to enjoy the event and even made dino shaped cookies for it.
A MESSAGE FROM JAZZYDAN😕"One of the hottest days of the year in sunny London, the UK designer toy "Fam" descended on the shiny new RayGun Comics in Hackney. Beers were drunk, cookies were eaten, badges were pinned, and beautiful custom Wools were purchased. Myself and Penny were overwhelmed by the turnout and support from all the beautiful people, many of who were captured by the talented Gabrielle Motola in the?attached photos! Once again we would like to say a massive thank you to all the artists involved, you can see all of the customs in the modified wool section of?rotocasted!
Many of the Wool?s sold on the night, but we still have some for sale in the?shop section?of our website. Take a look, why not grab a one of a kind masterpiece for your toy shelf or cabinet!
Thanks to everyone who turned out for the show, and a massive thanks to RayGun Comics for being so lovely. Hopefully fugi.me & robotic industries will be putting on a show early next year!"?-Daniel Perry?@jazzydan.
https://fugi.me/201493modified-wool-at-raygun-east/
Here's a few of the customs…
I decided to take part in the show too (as if I didn't already have enough to do he he) and here is my piece…
'The Shell Courier'
The Shell Courier is a glimpse into the world of the Spriggledops.? Being so teeny, they often catch a ride on a larger creatures back.? The Spriggledops live in a world where flora and fauna are at one and intertwine perfectly.
Magnets have been used in this and future pieces to hold the creatures in place during their ride and so that they can crawl around your house if you choose to take them home.